A List of 50 Best Free Things To Do in Dubai
2022 March updated
---
Dubai is a well-known city worldwide, and when someone mentions it, the mind drifts to how much you need to tour the city. However, there are free things to do in Dubai which will not cost you a dirham.
It is true Dubai is a luxurious city to visit, and there are five-star hotels and other expensive places for you. If you are looking for free things to do in Dubai, here we have a complete guide of 50 things you can do in Dubai for free.
These free things to do in Dubai with your new Dubai Visa are ideal for budget travelers. You will not believe quite breathtaking places you can tour in Dubai for free, and we have included all those places, among other things, in this guide.
01

Visit Al Seef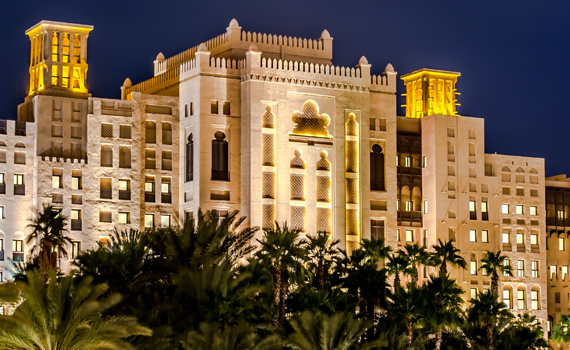 ---
Nearby is the Al Fahidi District in Al Seef, a freshly restored and refurbished cultural neighborhood steeped in Emirati culture and history adjacent to the Al Fahidi District.
Traditions are intertwined with cutting-edge design, demonstrating the city's ability to bridge the gap between its illustrious past and promising future. Mud-colored houses represent the traditional architecture of the first half, with arches and charming wind towers on one side and modern architecture on the other.
An ode to Dubai's fishing tradition is represented by fishing nets strung along the waterfront promenade. When exploring this neighborhood, you will notice the architecture changes to sleek and futuristic buildings that seem like cargo containers.
In Al Seef, there are numerous open-air floating markets and creekside pontoons where you can buy regional crafts and textiles, visit Emirati art galleries, and visit pop-up restaurants serving local cuisine.
Several outdoor events, festivals, and live entertainment performances are held across the region during the winter months. While you're here, be sure to check out the Museum of Illusions, which is especially fun if you're traveling with children.
02
Explore Al Karama and Enjoy the Street Art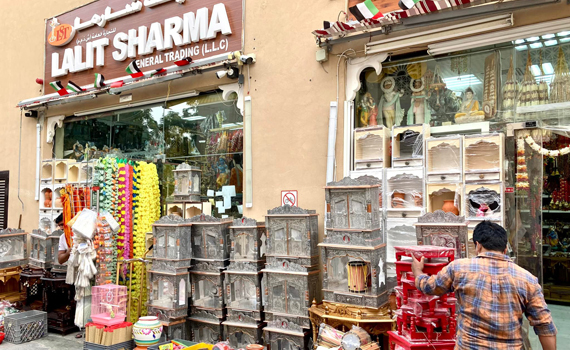 ---
Al Karama streets are amazing as there is street art to admire. There is a larger-than-life mural on 18b Street, and it attracts a lot of visitors.
There are also 24 beautiful works of art in the street as part of an ambitious initiative to give Karama's older buildings a facelift. It is free to explore Al Karama Street and appreciate different street arts.
03
Visit the Grand Mosque of Bur Dubai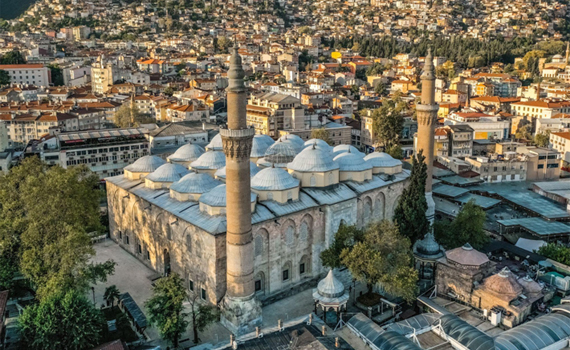 ---
The Grand Mosque is beautiful and exceptionally built. It is located in one of the city's oldest neighborhoods.
The mosque is open from 9:00 a.m. to 11:30 a.m. from Sunday to Thursday.
04
Free Road Trips from Alserkal Avenue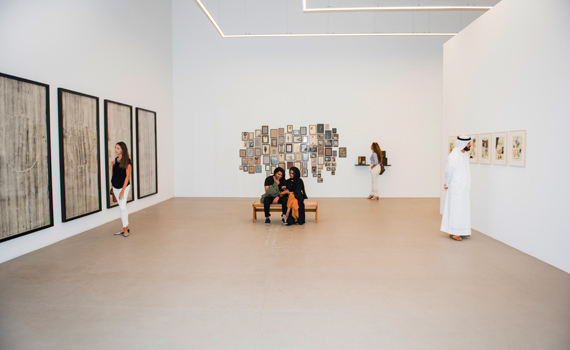 ---
If you love road trips, you can opt for the free road tours across the UAE organized by the Al Quoz gallery district.
It is your chance to join in the fun without having to spend any money. The road tours take guests to the most recent art exhibitions, performances, films, art institutions, and cultural activities.
05
Visit the Camel Racing Festival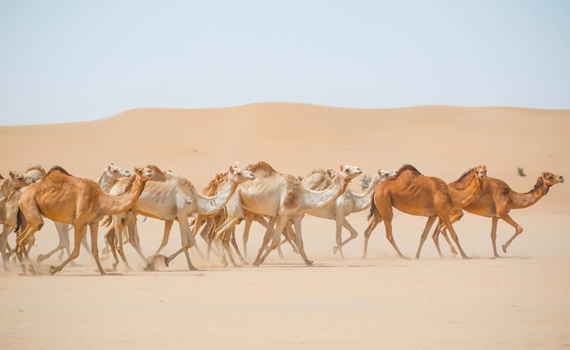 ---
The greatest way to see these gorgeous "ships of the desert" outdoes one other is at Dubai's renowned Camel Racing Festival.
The event is meant to honor a sport as it is deeply established in the region as the city itself. It is one of the greatest free activities for anyone interested in learning about its culture.
The Al Marmoom Heritage Village Festival is a place you can't miss to include in your list of free things to do in Dubai.
The place attracts thousands of people to attend the yearly competition. It's one of the most enjoyable activities in Al Marmoom. You can also go on a nature walk and participate in other activities.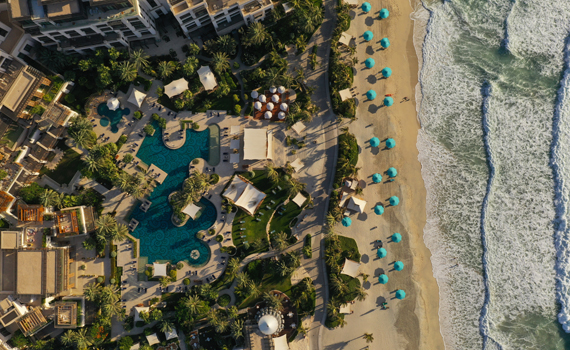 ---
You can visit the beach library as it is one of the free things to do in Dubai. You get to catch up on your reading at the beach libraries without missing out on the beach.
These libraries may be found on several public beaches in Dubai, including Al Mamzar Corniche and Umm Suqeim 1.
07
Go Shopping in Dubai's Souks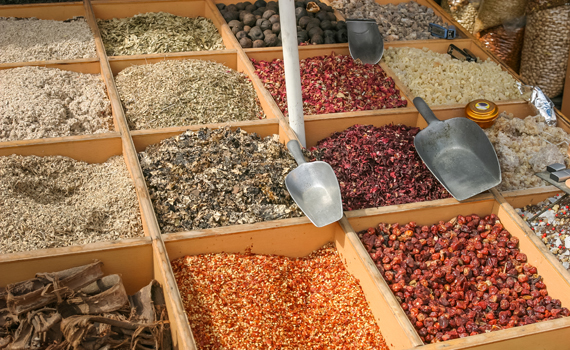 ---
Visiting the historic souks is a wonderful idea for people looking for free family activities in Dubai. Under normal conditions, a shopping spree isn't free, but there's no restriction against some free window shopping.
Aside from malls and shopping, Dubai's traditional souks provide plenty of free entertainment, especially for first-time visitors. Some examples are the Dubai Spice Souk, the Old Souk Dubai, and the Deira Gold Souk. You are not required to purchase anything.
The exhibit's trinkets, spices, and brightly colored clothing provide many photo opportunities. It is one of the greatest free things to do in Dubai.
08
Have a Picnic in one of Dubai's Free Parks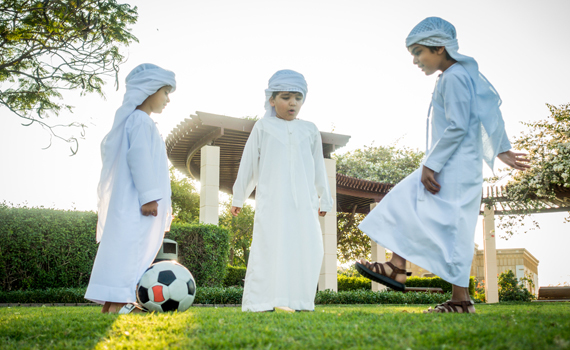 ---
Burj Park is one of Dubai's top free parks. The parks in Dubai are an obvious first choice for your "free things to do in Dubai" bucket list.
The city's public parks are great for families looking for cost-free recreational pursuits in Dubai, with picnic places, barbeque facilities, and children's play areas.
The Al Barsha Pond Park and Burj Park are two of the facilities that provide free admission, with the others providing free admission to differently-abled tourists and children under the age of 18.
09
Go to the Ras Al Khor Wildlife Centre to See the Flamingos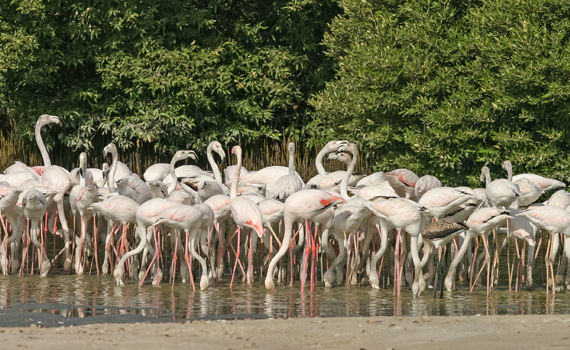 ---
The Ras Al Khor Wildlife Sanctuary is Dubai's most attractive free attraction. The Ras Al Khor Wildlife Sanctuary is next on our list of free places to see in Dubai.
The sanctuary, home to various bird species, including flamingos, is a great place to see flocks in their natural habitat without spending any money.
Visitors can get up and personal with the birds during feeding times. You also won't get sunburned because the viewing areas are shaded and air-conditioned, making it one of Dubai's top free indoor sites.
10
Spend a Day at the Beach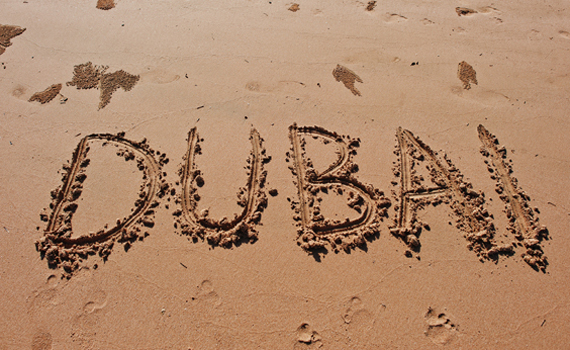 ---
Kite Beach should be on your list of "top free things to do in Dubai." The greatest strategy for anyone looking for free things to do in Dubai is to go to the beach.
Simply go to any of Dubai's free access beaches and enjoy the facilities, including running tracks, volleyball courts, and skate parks. JBR Beach, Kite Beach, and Jumeirah Beach are Dubai's most popular public beaches.
11
Enjoy Barbecue at Al Qudra Lake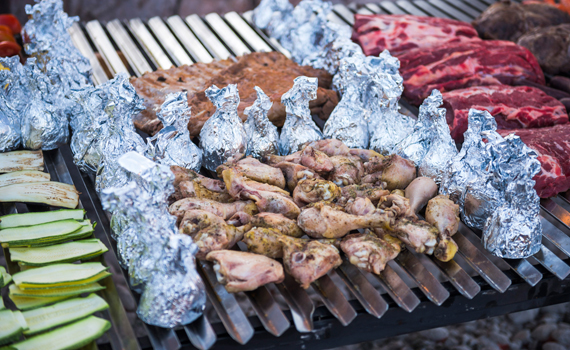 ---
Al Qudra Lake is a great place to go if you're seeking free things to do in Dubai. Al Qudra Lake, one of Dubai's most popular BBQ spots, offers guests some of the city's best free activities.
During the Eid holidays and long weekends, this is also one of the most popular free things to do in Dubai! If barbecuing and camping aren't your thing, there are many other things to do in Al Qudra.
12
Spend a Night Camping at Al Qudra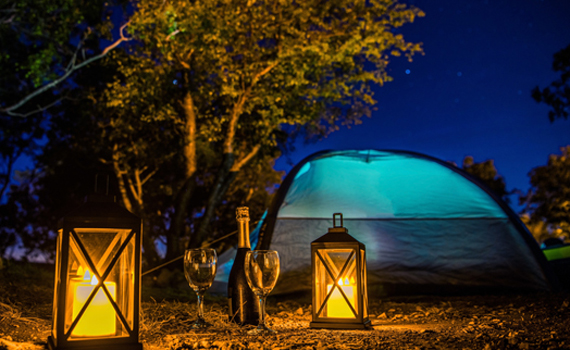 ---
Al Qudra Lake is among the top camping locations in the United Arab Emirates.
It is free to access the park, so there are no charges for pitching a tent.
If you plan on staying overnight, ensure you have everything you'll need for a campfire as it might become chilly. Generally, an Al Qudra camping trip should be on your list of "top free family activities in Dubai."
13
Freecycling Tracks at Al Qudra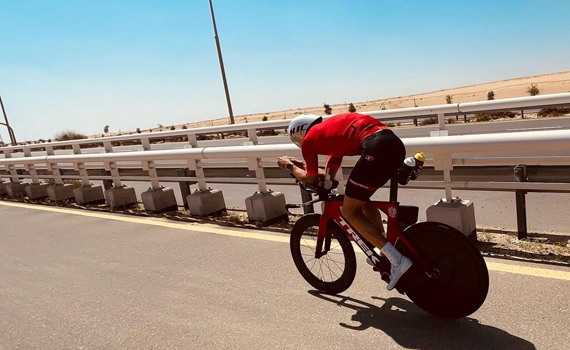 ---
If you are a cycling enthusiast, whether professional or amateur, you should flock to Al Qudra. If you are a beginner, you'll be able to pedal while taking in the breathtaking vistas of Al Qudra Lake.
Second, as long as you bring your bike, it's free. You can also rent bike rentals near the track at the Trek Dubai store.
You can choose either to cycle an 18-kilometer or a 50-kilometer.
The Al Qudra Riding Path, one of Dubai's top cycling paths, is an activity to add to your growing list of "free things to do in Dubai." It's also one of several activities available at Al Qudra Lake, so you'll have enough to choose from Other freecycling facilities include the Nad Al Sheba Cycle Park and Al Qudra Lake. Like the Dubai Autodrome, other venues provide free track entry on certain days of the week.
14
Take a Trip to Bastakiya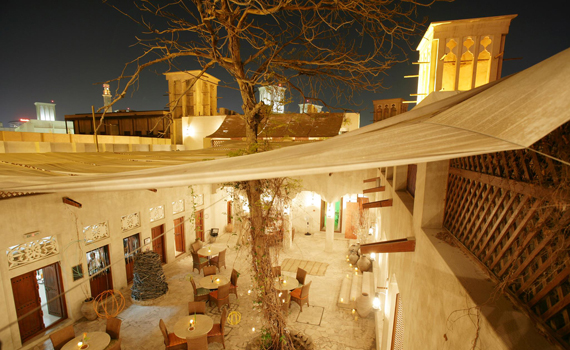 ---
The Al Fahidi Historical Neighborhood is a great place to learn about the country's history. You get to learn the UAE's past and culture in the historical neighborhood of Bastikiya.
Al Bastakiya, also known as the Al Fahidi Historical Neighborhood, offers a taste of the city's historic architecture, similar to traditional UAE desert dwellings. It is free to explore the neighborhood.
15
Take a Trip to Hatta Heritage Village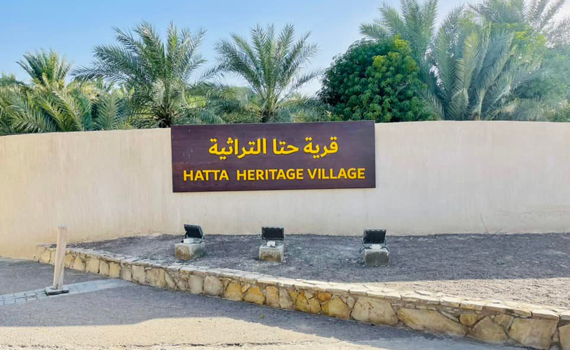 ---
The Hatta Heritage Village is another free place to visit in Dubai. At Hatta heritage village, you'll learn more about the city's history.
It is the perfect spot to go if you've ever wanted to see what the city was like before the oil and tourism industries changed it into the contemporary Utopia we know today.
You'll find forts, citadels, and turrets throughout the village. The other place to explore is the"Bait Al Wali," which used to be the home of the local monarch.
16
Visit Museum of Traditional Architecture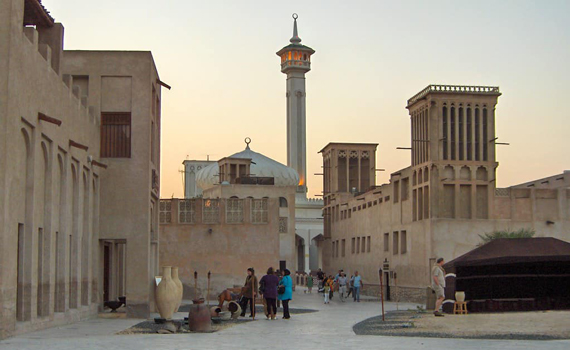 ---
His Highness Sheikh Juma bin Maktoum lived in the museum, almost 100 years old. Today, the museum holds a collection of traditional ornaments and tools once utilized in building homes in Dubai and the rest of the UAE decades ago. It is the ideal place to visit if you've ever wanted to learn about Emirati architecture for free.
17
Visit the Camel Museum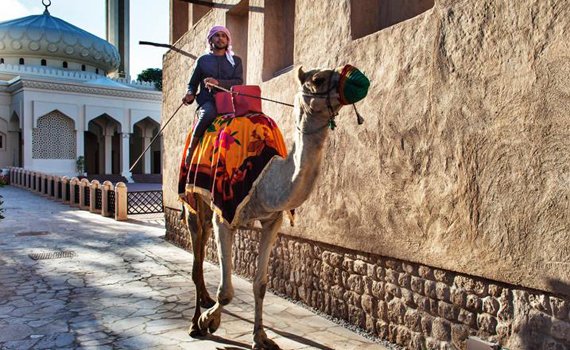 ---
Are you enthusiastic about the camel and wish to learn everything there is to know about camels for free? You should include a visit to the Camel Museum on the list of free things to do in Dubai. The camels are an important part of UAE history. The museum is the best site to learn how local Bedouins survived by relying on animals.
18
Visit Yard's Love's Lock Bridge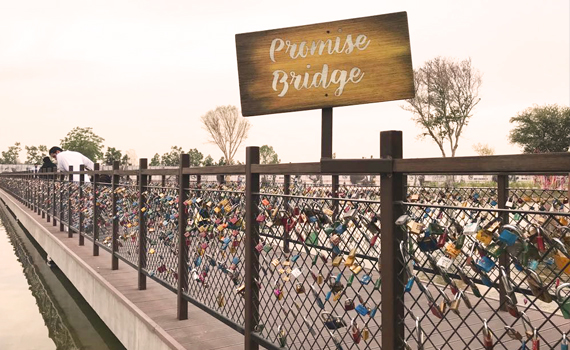 ---
At The Yard, there is a Love Lock Bridge. One of the free things to do in Dubai is to visit the Dubai Museum. You can attach a lock to the bridge with your loved one's initials and chuck the key off the bridge. You don't need to go all the way to Paris's Pont des Arts Bridge to have this experience!
The Love Lock Bridge at the Yard is unquestionably one of the best free things to do in Dubai with your significant other. The yard is one of the most popular free locations to visit in Dubai, but if the Love Lock Bridge isn't your thing, there are many other activities to try out at The Yard.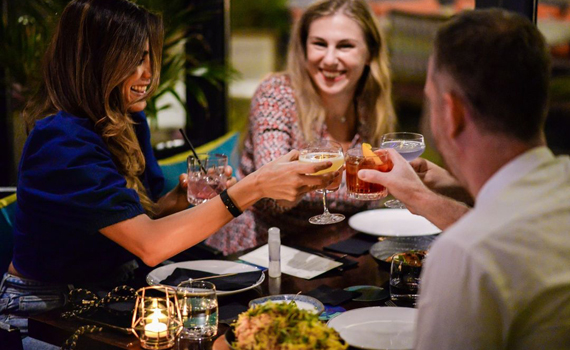 ---
La Mer is a French seaside resort. One of the free things to do in Dubai is to visit one of the Insta-friendly seaside destinations.
La Mer is another excellent free place to visit in Dubai. With its unique installations and vibrant street art, La Mer is undoubtedly one of Dubai's best selfie sites.
There's also La Mer Beach, which offers a variety of family-friendly watersports activities. If you desire something nice, you can always go shopping in La Mer.
20
Tour Ain Dubai on the Blue Waters Island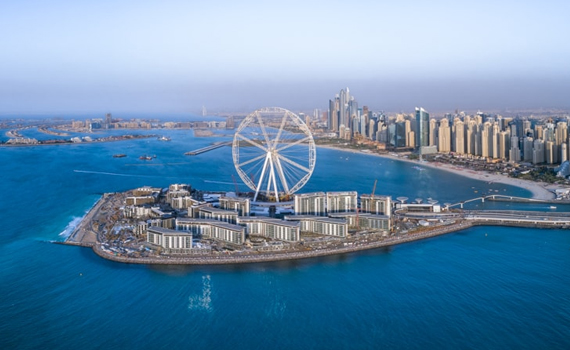 ---
You can tour Bluewaters Island and take a selfie with the Ain Dubai in the background. Blue Water Island is another renowned free tourist attraction in Dubai. It's a relatively new addition to the Meraas destination list.
The Caesars Palace, which houses one of Dubai's greatest celebrity chef restaurants, and Ain Dubai, the UAE's largest observation wheel, are both located on the island.
Although Ain Dubai is not yet open, the magnificent tower can be seen soaring above the island. Check all the details about Ain Dubai if you're intrigued about this much-anticipated Ferris wheel in Dubai.
There is no direct subway or bus service to the island; driving is the best option. If taking public transportation is your only choice, the closest metro station to Bluewaters Island is DMCC, but you'll have to hire a cab to get there.
21
Take a Walk along the Marina Walk for a Beachfront Promenade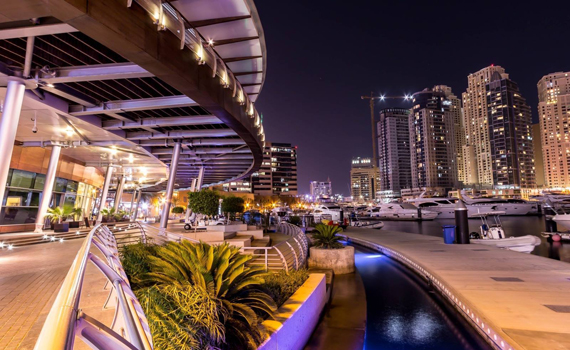 ---
The Dubai Marina Walk stands out among Dubai's most popular free attractions. For rent, there are residents at the Dubai Marina apartments. You can take a stroll with their families or even jog along the Marina Walk, and the flats are conveniently placed. You'll live the shoreline and docked yachts because they provide some breathtaking vistas.
22
Walk Down the Palm Jumeirah Pointe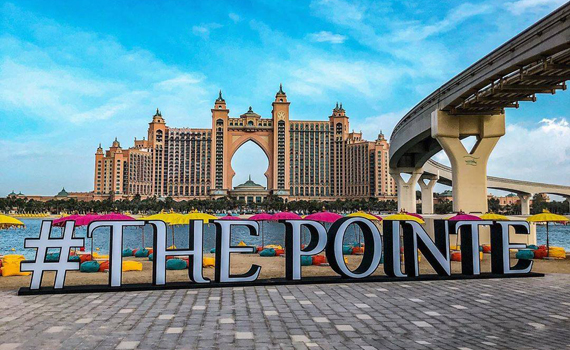 ---
The Atlantis hotel is direct across the Pointe on Palm Jumeirah. The Palm Jumeirah is a well-known luxury resort with opulent hotels and attractions.
However, those who want to explore the stunning beachfront site for free may find the Pointe at The Palm to be a pleasant respite.
Apart from the numerous dining and retail options, the 1.5-kilometer promenade offers the ideal photo opportunities, with breathtaking views of the sea and the spectacular Atlantis, The Palm, in the distance.
23
Take a Trip to Dubai's Riverland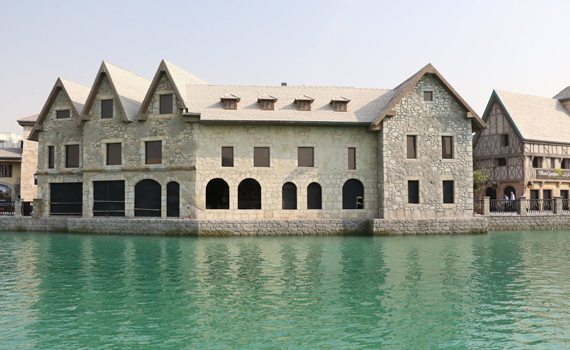 ---
In Riverland Dubai, you can travel back in time to the streets of France in the 1600s or to 1950s America. Riverland Dubai, part of Dubai Parks and Resorts, allows guests to visit four different communities from the past.
The French Village at The Peninsula is inspired by a medieval French town, a 1950s American Boardwalk, an Asian-themed India Gate, and a 19th-century architectural piazza. The entrance to Riverland Dubai is free, but parking costs money.
24
Watch the Dancing Fountains in Dubai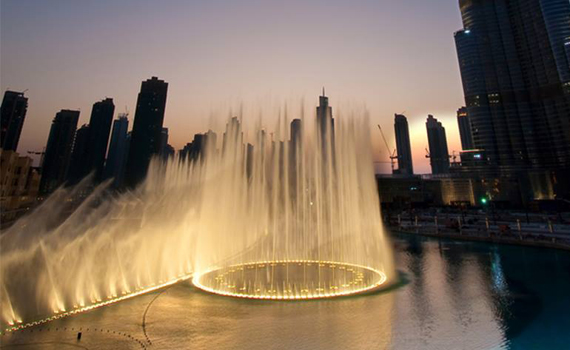 ---
The Dubai Mall's Dancing Fountain is one of the world's largest choreographed fountain systems and one of the best free things to do in Dubai.
This is arguably the most popular of all the free things to do in Dubai. Simply go to The Dubai Mall and watch the stunning performance put on by the world's largest choreographed fountain system, the Dubai Fountain, which dances to Whitney Houston, Celine Dion, and others. Apart from shopping, Dubai Mall also offers a variety of other activities.
25
IMAGINE Dubai Festival City Mall (DFC)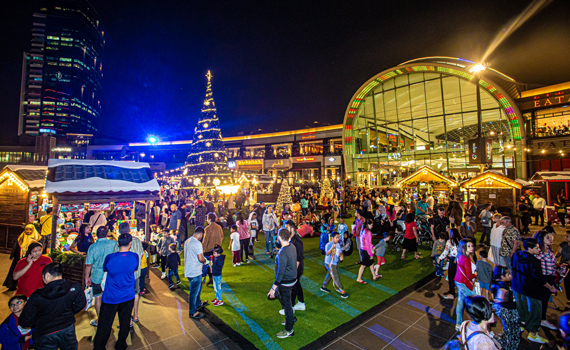 ---
IMAGINE, located in the Dubai Festival City Mall, provides visitors with a unique sensory experience and is one of the greatest free locations to visit in Dubai at night.
If you enjoyed the Dubai Mall's dancing fountains, the IMAGINE performance is a good alternative.
When the sun sets, the Dubai Festival City Mall's IMAGINE attraction comes to life, making it one of the greatest locations to visit in Dubai at night for free.
The water and laser show, one of the most popular attractions in Dubai Festival City Mall, is a big lure for visitors. It also has one of the world's largest water screen projections, as well as pyrotechnics, lasers, lighting, and other dramatic effects.
26
Visit Dubai Water Canal's Waterfall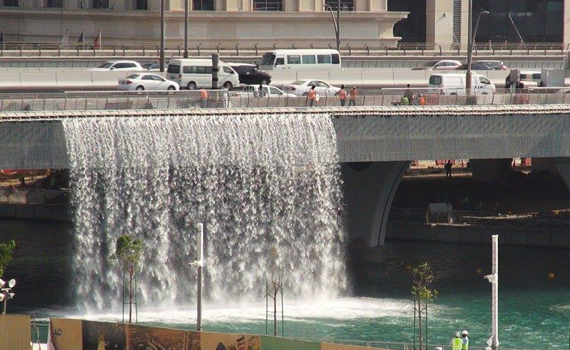 ---
The magnificent mechanical waterfall in the Dubai Water Canal is one of the top free things to do in Dubai. The Dubai Water Canal is one of the greatest free things to do in Dubai and one of the top free locations to visit in Dubai.
The 6.4-kilometer artificial canal also includes a 3-kilometer running track and a 12-kilometer cycling trail, making it ideal for fitness fanatics searching for free exercise in the emirate.
If working out is not your thing, there are many open spaces and seats along the canal's waterfront where you can sit back and relax. A motorized waterfall also changes colors and works as a curtain when boats sail through.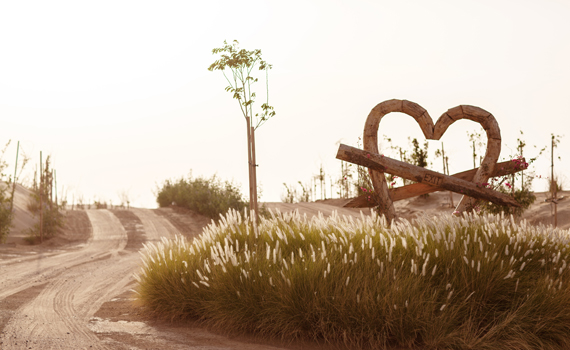 ---
A lake and beautiful green space in the middle of an arid desert make Al Qudra a great destination for barbecuing, camping, cycling, bird watching, and a plethora of other activities that bring you closer to nature and away from the rush and bustle of the city of Dubai.
You can pitch a tent anyplace you like and spend the night under the stars if you find a suitable location. There are fire pits and washrooms, which are a welcome luxury in the middle of nothing.
The Love Lakes in Al Qudra is also a local attraction regarded as one of the city's most romantic destinations. The two massive lakes are in the shape of entwined hearts, and the trees planted around them spell out the word 'love' in several languages.
Ducks, flamingos, eagles, swans, and falcons are among the many species of birds that can be found here, as well as a variety of other animals. The flora is also spectacular, with a diverse array of flowers, plants, and trees that includes red begonia, hundreds of thousands of shrub kinds, and over 16000 trees that include sides, olives, and lots of the desert staple.
28
Visit AquaVenture Waterpark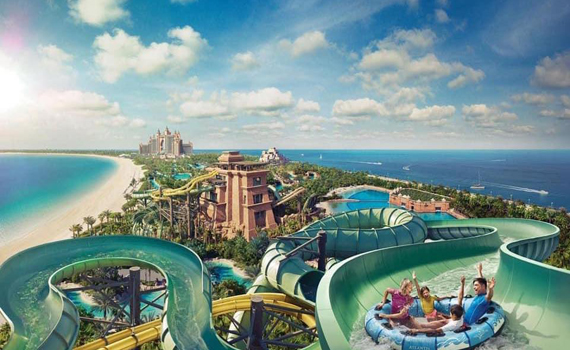 ---
A trip to Atlantis, The Palm's renowned Aquaventure, is usually not cheap. But just on one day a year, your birthday is this true! To receive the "Free Aquaventure Waterpark Birthday Offer," register your birthday on the Aquaventure Birthday website.
The free admission is limited to single admissions without any add-ons and is subject to availability. Furthermore, it is valid on your birthday and can be used once in the following six days. Given the cost of a standard Aquaventure Waterpark ticket, it's undoubtedly one of Dubai's most valuable free activities!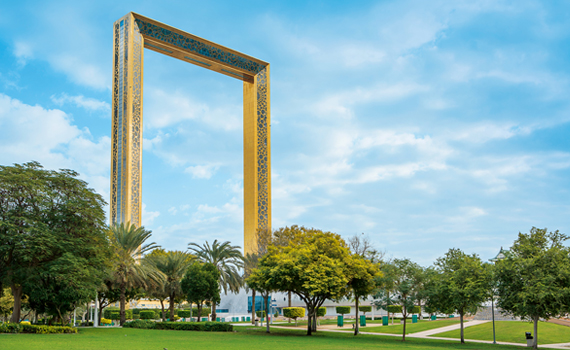 ---
Zabeel Park is an oasis of peace in the center of the city (unless you're surrounded by rowdy kids who are up to no good), and it's a nice location to lie on the grass and gaze at the passing clouds. Although it is a hive of activity, avoid all other attractions/distractions and spend some time in nature.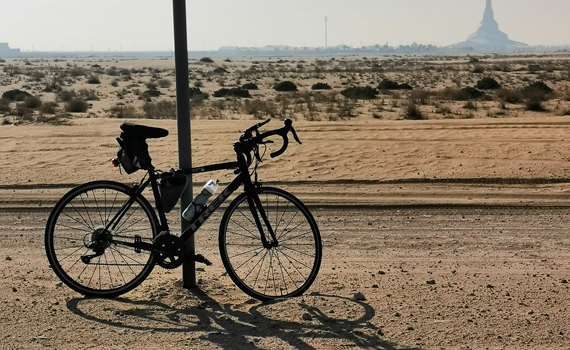 ---
The Al Qudra Cycle Track is a purpose-built track that spans 50 kilometers and is another great place to watch the dawn (or sunset).
Now, we're not proposing you conquer every inch of this incredible facility in one sitting (unless you're Chris Froome), but come early or late in the day to avoid the heat – and to achieve your personal best.
31
Go Hiking at Hatta Hike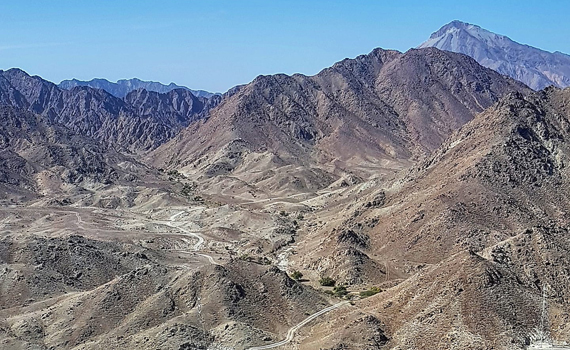 ---
Your hastily purchased hiking boots were intended for walking, and there is only one place to let them speak for themselves truly. Hatta offers five different routes of varying complexity, free and set in the Hajar Mountains. This is the city of Dubai.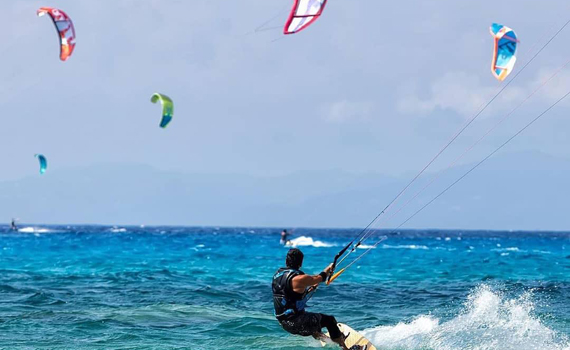 ---
If you are in the mood for something less strenuous than flying a kite, you can pass up the stretch of running track that meanders back and forth along this lovely beach. On a trip to Dubai's Kite Beach, the run's spectacular scenery will send you soaring as well.
33
Go Road Trip and Climb up Jebel Hafeet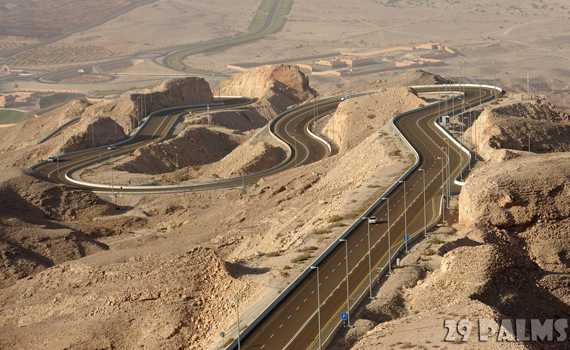 ---
Al-Ain may be renowned as the Garden City, but we're more interested in the rocky beauty of the surrounding Jebel Hafeet mountain range.
The climb from base camp to more acceptable vantage locations, where hikers can gaze out over the great open desert and Al Ain below, will take four hours.
If you're a more experienced hiker, don't forget to break in your walking shoes before taking your first steps, or you'll end up with some major blisters.
34
Enjoy Sunset Around Dubai Marina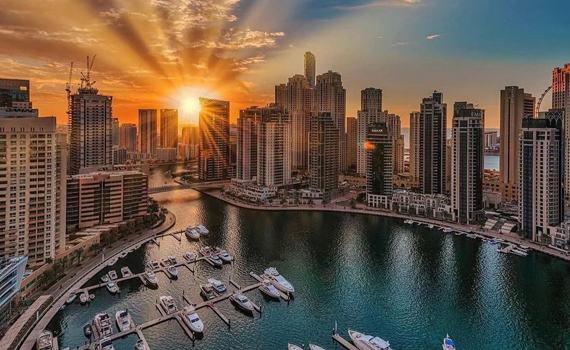 ---
The 7-kilometer boardwalk surrounding Dubai Marina is excellent for a stroll, brisk walk, or jog, and you'll see lots of other fitness enthusiasts doing the same thing during the winter.
You will enjoy your time because Dubai Marina is rarely crowded and quiet as you walk around. It's a simple walk because it's flat and circling. But you'll need to deviate from the path, up some stairs, and along the main road to pass over the bridge at Marina's far end near Bluewaters.
There's a lot to see along the way, and the views are spectacular, making for some great photos. The yachts drifting in and out of the Marina give it a high-end feel without breaking the bank.
35
Visit Dubai Aquarium & Underwater Zoo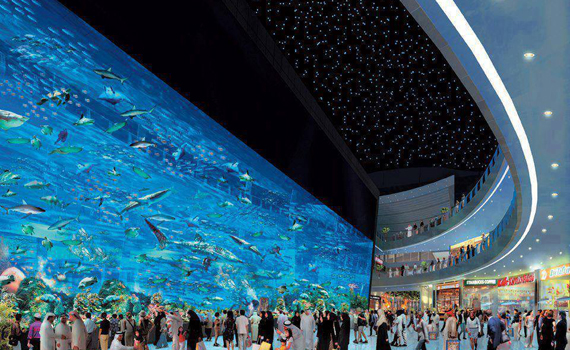 ---
The main tank of the 10-million-liter Dubai Aquarium is 51 meters long, 20 meters wide, and 11 meters high, making it the world's largest suspended aquarium.
It is home to about 30,000 aquatic animals, including over 400 sharks. You wouldn't believe it, but the world's largest aquarium is open to the public for free. From the Ground Floor of the Dubai Mall, you may get a free sight of the Dubai Aquarium.
While it doesn't compare to walking through the aquarium tunnel, obtaining a glance from the outside is enjoyable in and of itself.
36
Visit Waterfall in the Dubai Canal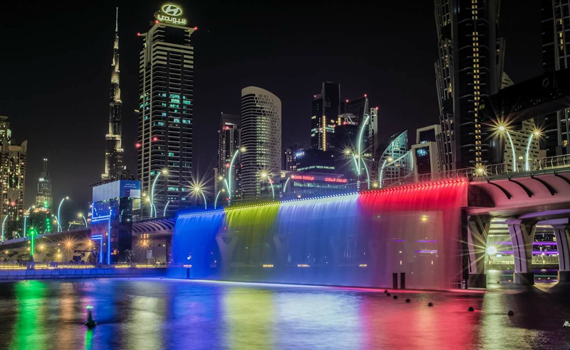 ---
The Dubai Canal, one of the city's most beautiful new additions, now has its fabulous focal point in the form of a colorful cascade where the waterway joins Sheikh Zayed Road.
Stop for a bit, whether you're blissfully rowing, gleefully jogging, or simply strolling along the canal, and soak in the glow of this amazing rainbow.
37
Enjoy Free Pool Day at Barasti's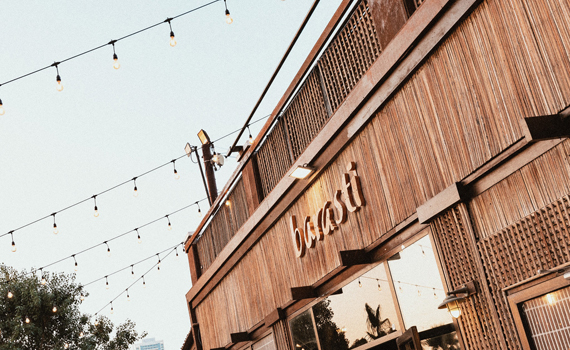 ---
Most beach clubs charge for access to their facilities, but not our friends at Dubai's Barasti Beach Club. They established their pool completely free of charge.
They say that the early bird gets the worm. This is the place to go if you want to get some sunshine, listen to some great music, and cool down in the ocean.
38
Explore the Al Shindagha Heritage Village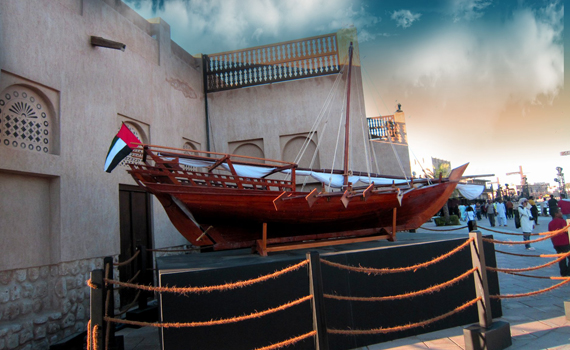 ---
The Al Shindagha Historic District is located near Port Rashid on the banks of Dubai Creek. There are numerous structures in the area, including a Heritage Village and various museums.
If you're interested in the history of Dubai and the role of Dubai Creek, this is an excellent book to read. The Diving Museum, Camel Museum, and Sheikh Saeed al Maktoum House are all worth visiting because they provide an interesting story about the country's history.
39
Visit Museum of Antiquities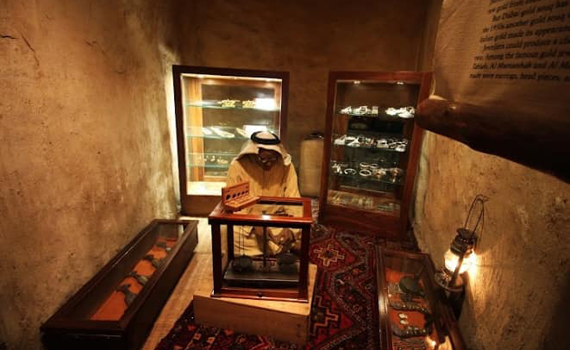 ---
Even though the name is a complete misnomer, this large network of narrow corridors is brimming with antiques and trinkets from Asia and the Middle East.
Simply exploring the mind-boggling diversity of things is a lot of fun, and it's all free – you'll just have to resist the urge to buy that antique sideboard that would look fantastic in your living room.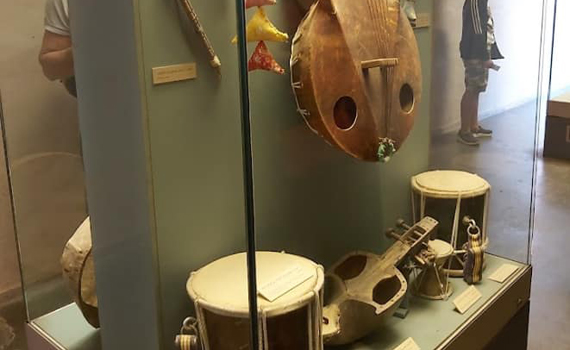 ---
The Antique Museum is the brainchild of a pioneering poet, pays honor to the great man himself, and provides visitors a true sense of what inspired his work.
Here you'll find some of his original, handwritten collections (oh, how we wish we could quit the keyboard), as well as his writing desk and the pens he so deftly put to paper.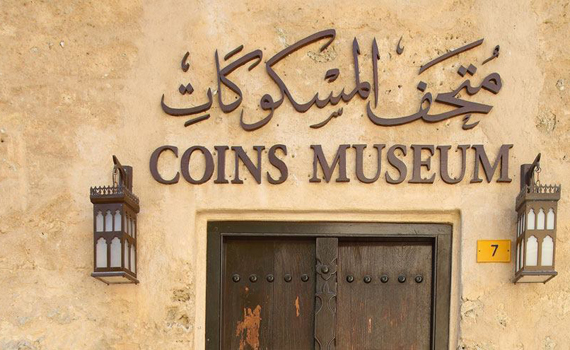 ---
Despite our longing for a barter economy to return, you can't get very far these days without some cash. Coin Museum is a beautiful building in Bur Dubai that boasts eight rooms crammed with historical money from the UAE and abroad. You'll see a variety of perspectives on the same coin here. It's also free to enter.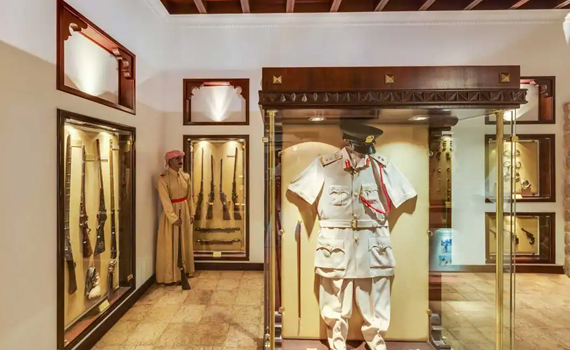 ---
Naif Fort, Dubai's first police station, was built in 1939, and it's museum demonstrates why the city has become one of the safest in the world.
If those rifle-toting mannequin cops weren't enough to scare you away from a life of crime, we don't know what would.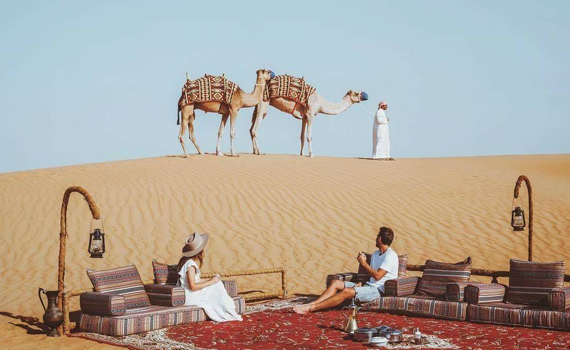 ---
If you haven't seen the desert, you haven't seen Dubai. And you haven't done the desert unless you've had your picture shot in mid-air, legs, and arms flailing atop Big Red, the emirate's largest dune.
You can take a picture, relax for a spell, and take in the beauty of the Empty Quarter. True, gas is expensive, but if you have a car in Dubai, getting it is free.
44
Visit the Jameel Arts Centre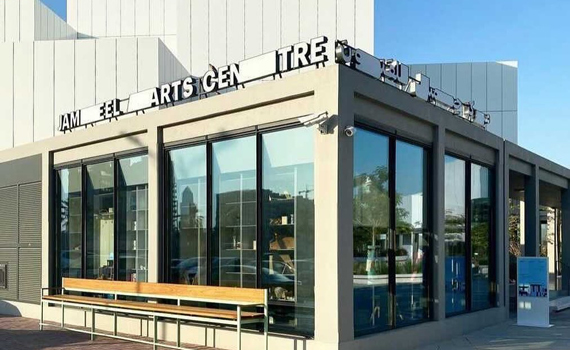 ---
This wacky structure on the Jaddaf Waterfront is innovative in its design and research. It is fiercely independent, and unlike few other organizations, it supports artists from the MENA region. You may do the same by visiting this fantastic creative hub and immersing yourself in it.
45
Explore Gold Souk Marketplaces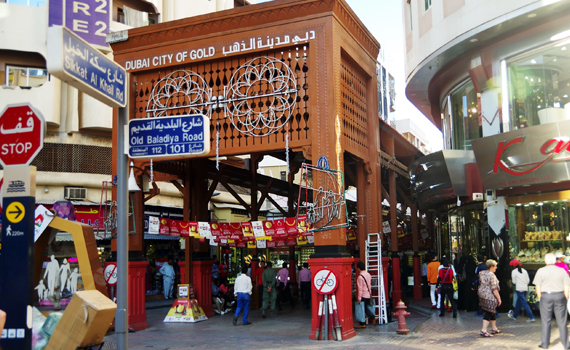 ---
When you step into the Gold Souk, one of the world's largest marketplaces for the most gleaming of precious metals, you might want to keep your sunglasses on.
New jewelry and other finery are sold at the stall after stand. Even if your haggling skills aren't up to snuff, you can roam around Old Dubai for free and take in all of the attractions.
For an additional Dhs2, you may also board an abra for the cheapest picturesque boat ride you'll find.
46
Learning a New Language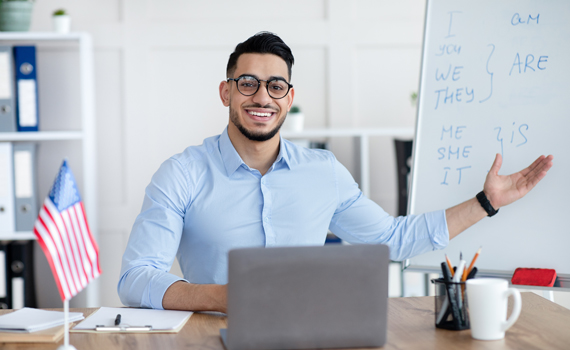 ---
The knowledgeable volunteers will engage you in fun methods to learn the language, and they guarantee not to laugh (too much) at your bad accent.
Babbel is a thorough solution to study a new language online that will transport you back to the classroom. The app is simple and focused on integrating audio and visual cues to help you quickly master the fundamentals of conversation. They're simple to fit into your day because they're only 15 minutes long. It's also completely free.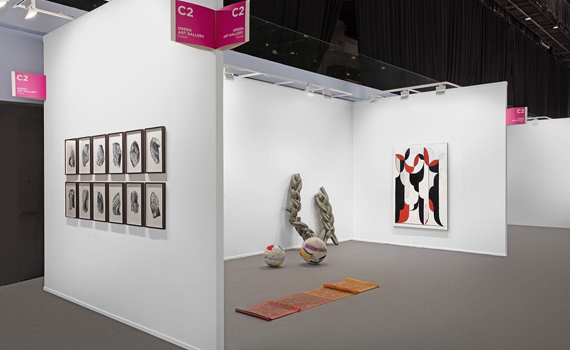 ---
Alserkal Avenue in Al Quoz, Dubai's hippest and artist neighborhood, is lined with art galleries, performance places, and some delectable culinary pleasures.
This old industrial neighborhood is now a swarm of artistic activity, replacing engine oil with oil on canvas. There are numerous free activities in this region of Dubai, ranging from gallery exhibitions to shopping.
It's a fantastic way to get a taste of culture without spending any money. In addition, there are numerous Insta-worthy locations strewn about.
48
Visit the Coffee Museum in Dubai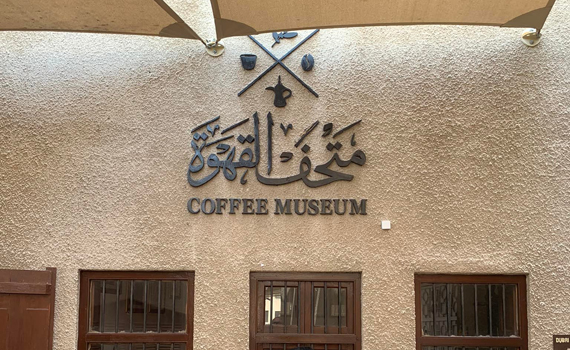 ---
The Dubai Coffee Museum is a one-of-a-kind destination for those interested in everything related to coffee, from the history of the beverage to foreign techniques and flavors, coffee books and documentaries to peruse, and even centuries-old coffee pots and other coffee-making instruments.
Furthermore, the baristas here are knowledgeable about their brews—so feel free to ask them any questions you may have about beans or brewing; they will be happy to share their knowledge with you if you are interested.
49
Enjoy Horse Racing at Meydan Racecourse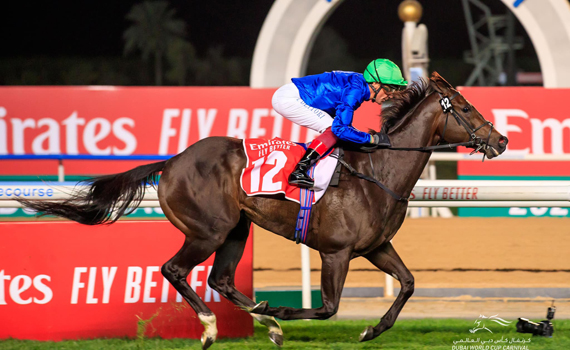 ---
There are just a few places in the world where you can watch horse racing for free, and Dubai is one of those places! Horseracing events are held at the Meydan Racecourse for more than five months out of the year, culminating in the Dubai World Cup, the wealthiest race day in the world in terms of prize money.
While there are no free World Cup tickets available, you can visit the Meydan racecourse on other days and watch horse racing for absolutely nothing on certain days. The free entry area provides access to a small section of the Meydan Grandstand, boasting superb views of the racetrack and surrounding region.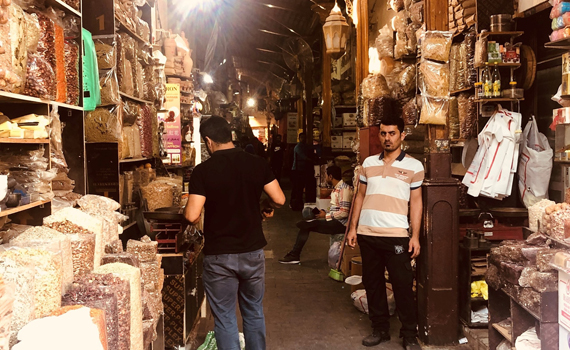 ---
Dubai boasts a mall on every corner; the city also features several souqs, small markets that wind their way through narrow alleys in the city's oldest districts.
These historic markets, including anything from spice souks to gold souks and even a full souq dedicated to perfumes, are among the best free things to do in Dubai. It feels as if you are transported back in time when wandering through the pathways of these souqs.