November 04th, 2022 Updated
Dubai Visa for Sri Lankans in 3 WhatsApp Messages
Via WhatsApp in 24 hours with insurance
Arabiers Sri Lanka & Arabiers UAE rated as a best travel agency that process Dubai visa for Sri Lankans. Our Standard processing in 24-48 hours and our express visa processing in 4-8 hours.
Need help?
WhatsApp

Call our office: +94 112 55 8088

13 First Lane, Dehiwala-Mount Lavinia 10390

Dubai Visa Rates
Single entry 30 days
389 AED
Single entry 60 days
689 AED
Multi entry 30 days
1050 AED
Multi entry 60 days
1290 AED
Multi entry – 30 With insurance
67,000 LKR
Multi entry – 90 With insurance
128,000 LKR
Terms of the Dubai visa rates
Visa fees paid to immigration is non-refundable
Sudden issues like IT problems, natural disasters like COVID and Public holidays can affect the 24 hour visa processing duration.
If you overstay with a Dubai tourist visa, you will be charged 200 AED for the first day and 100 AED per day from the second day onwards.
Please thoroughly check your visa copy and get back to us within 72 hours if there is any error. Please keep in mind that we won't bear responsibility for any immigration issues due to typing errors as the Immigration services in certain countries are very peculiar about spelling differences.
Dubai express visa from Sri Lanka
Are you in a hurry to catch a flight to go Dubai and you have limited time to get your visas done? Leave your worries and call us we will do your visas in 4-8 hours' time on the same day. Our Dubai express services are one of the leading services that are highly rated by the many travelers
Single entry 30 days – Dubai express visa
789 AED
Multi entry 30 days – Dubai express visa
1359 AED
There are no strict eligibility criteria to apply for a Dubai tourist visa. Individuals below 18 years of age need to apply for a visa and travel to Dubai with one or both of their parents. The passports of all Sri Lankans travelling to Dubai need to have a minimum validity of 6 months from travel date. Since Sri Lanka is not in the list of countries for on-arrival visa (like USA, Canada passport holders), Sri Lankans have to apply for a prepaid Dubai visa.
Dubai-based tourism companies (like Arabiers Dubai) are permitted to provide you with a Dubai tourist visa as long as you fulfill the eligibility criteria set by tourism companies. In Arabiers, we expect Sri Lankan applicants to satisfy the following criteria:
1
Are financially capable of completing the trip or have direct family members/ relative/friend living in UAE with a decent job.
2
If you are going for a holiday and have no family members in UAE we will require proof that you are a legit traveler.
3
If you are going to seek employment, we won't provide you with a tourist visa.
4
We will request you to agree that you will either return on time or extend your stay, never overstay your visa.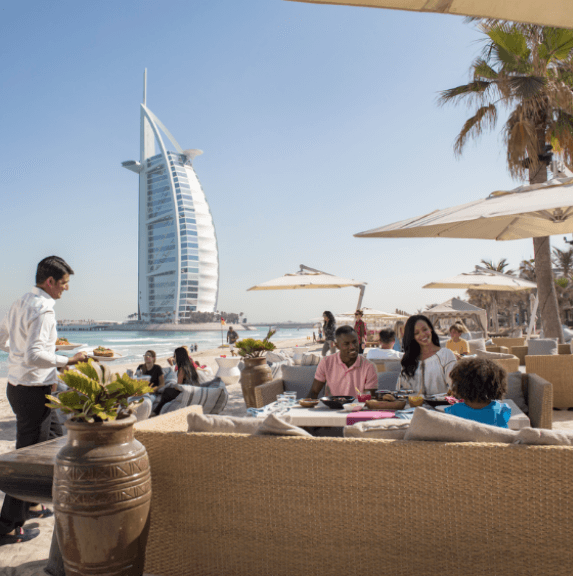 Documents required
Necessary supporting documents to apply for a Dubai visa from Sri Lanka are mentioned below. Please note that all documents should be in soft copy format and can be sent to us via Email or WhatsApp.

Color copy of your passport first page of your ( with 6 month validity)

Photograph taken in white background

Birth certificate of any kids travelling with you

Work visa page photo of any family member/ friend in UAE.
Types of Dubai Visas
If you are visiting Dubai for the first time, you may wonder what types of Dubai visas are available. If you are a tourist you will most likely choose a tourist visa. If you want to visit for a different purpose, you can select a different visa to suit your travel needs. The Dubai Government issues a variety of visas and entry permits depending on the purpose of your visit. From this blog, you can find out more about the different visa types and how to track your Dubai visa status.
Tourist visa
Sri Lankans usually travel on a tourist visa, which is easy to get through a tourism business like Arabiers. As a Sri Lankan passport holder, you must apply in advance for a tourist visa, also known as a Dubai visit visa. Tourist visas to the UAE can be issued for 30 days or 60 days with single or multiple entry, depending on your travel plans. Prepaid tourist visas can be extended for another 30 days without having to leave the UAE. A new tourist visa can be obtained without exiting the country. If you are curious about the validity period of a tourist visa, it is 60 days from the time your tourist visa is issued within which you have to enter the UAE.
Business visa
A business visa is part of UAE's Golden Visa program, which allows foreign nationals to apply for a long-term visa for themselves and their dependents. Any individual who owns any business overseas and wants to start a business in the UAE qualifies as an eligible entrepreneur. Professionals from any part of the world with entrepreneurial expertise are able to apply for a business visa.
Remote work visas
A remote work visa permits you to live in the UAE while working for your current company outside of the country. The visa has a validity period of one year. The UAE cabinet implemented the new Remote Work Visas plan to allow employees from all over the world to work remotely from the UAE. Their main goal is to attract talents and skills from all over the world. The one-year visa permits foreigners to enter the UAE on their own sponsorship and work in accordance with the visa's terms and conditions.
The first of its kind in the Middle East, this significant step allows entrepreneurs and talented individuals to innovate in the UAE's safe and attractive business climate, with access to all necessary world-class facilities.
What are the requirements to apply for a remote work visa?
The general requirements are:
passport valid for at least 6 months
valid health insurance with a UAE cove
The general requirements depend on which category you fall under:
If you own a company:
Proof of company ownership (for a minimum of one year)
Bank statements of company account for the previous three months
Earn an average monthly income of USD 5,000
If you are employed by a country overseas:
Proof of employment with a contract (valid for at least one year)
Salary slip of previous month
Bank statement of previous three months
Minimum monthly salary of USD 5,000
Patient and his/her companion entry permits
International patients who are funded by the medical facility where they will be treated are allowed to enter the UAE for treatment. If a legally recorded medical report demonstrates that the patient requires prolonged treatment and that his/her partner is required in the UAE, the patient's companion's entry permit can only be extended once. Patients from other countries can seek treatment in the UAE through medical institutions or government and commercial hospitals. The sponsor is the registered medical facility or hospital from which the patient is seeking treatment. They are responsible for processing treatment entrance permits at the patient's request.
Foreigners intending to enter the UAE for treatment are granted entrance permits by the General Directorate of Residency and Foreigners Affairs in Dubai, based on the sponsorship of medical institutes (public and private). There are two sorts of permits:
Single Entry Medical Treatment Permit: entitles the holder to enter the UAE within 60 days of issue and stay for 60 days from the date of entry. It is extendable but only for a single entry.
Multiple Entry Medical Treatment Permit: entitles the holder to enter the UAE within 60 days of issuing and stay for 60 days from the date of entry. It is renewable and allows for multiple admissions.
What are the documents needed to issue a UAE medical entry permit for the patient?
Passport copy of the patient
Proof of patient's health insurance
Financial security
A letter stating the purpose of visit from the registered hospital
What are the documents needed to issue a UAE medical entry permit for the companion?
Passport copy of the companion
Proof of companion's health insurance
Financial security
Transit visa
Transit visas can be issued only by UAE-based airlines. the Transit visa must be issued before the entry into UAE. Extensions are not available for transit visas so it is best to exit the country within the specified duration. The UAE offers two types of transit visas:
48 Hour Transit Visa: This visa is issued free of charge.
96 Hour Transit Visa: Costs 50 AED.
Only the UAE-based airlines you'll be flying with can arrange your transit visa ahead of time.
Student visa
Expat students over the age of 18 who are residing in the UAE are granted a student visa. Outstanding students may be eligible for a five-year visa. On November 24, 2018, the UAE government approved a resolution to award excellent students a five-year visa.
The following are the requirements for obtaining a five-year visa:
Students at public or private secondary schools must graduate with a minimum grade of 95%.
University students from both within and outside the country must graduate with a distinguishing GPA of at least 3.75.
There are numerous visa benefits for the families of outstanding students.
Retirement visa for UAE residents
Retired residents over the age of 55 can apply for a five-year long-term residence visa. If the eligibility criteria are met, the visa may be renewed. The UAE Cabinet adopted a measure in September 2018 that will grant retired residents over the age of 55, a five-year long-term visa. If the eligibility criteria are met, the visa may be renewed.
A retiree must meet one of the following conditions to be eligible for a five-year renewable retirement visa:
Invest in a home worth AED 2 million.
A bank account with at least AED 1 million in savings
Having a monthly active income of at least AED 20,000
e-Visa for GCC residents
GCC residents and their companions must apply for a visa online in order to enter the UAE. The visa is valid for 30 days and can be renewed for an additional 30 days.
Track Dubai e visa status
Track visa application
To track your visa application, you'll need your application number and reference number. Request the application number and reference number when submitting your visa application to any visa service provider so that you can track your visa using the ways described.
You can check the status of your visa application for Abu Dhabi, Sharjah, Ajman, Umm Al Quwain, Ras Al Khaimah, or Fujairah on the Federal Authority for Identity and Citizenship's (ICA) website (the eChannel for residency and citizenship).
What are the steps to check my visa status on the ICA website?
Visit the ICA portal.
Choose the "change language" tab and select English as your language.
Select on the tab "passport information".
Choose the "visa" option and enter your passport number and the expiry date.
Choose your nationality from drop down bar
Click on the captcha tickbox before clicking search.
If all information is properly given, your visa information will be displayed.
If you apply for a Dubai visa, you can track your application at the General Directorate of Residency and Foreigners Affairs-Dubai or through Amer centers in Dubai (Vision eForm.)
What are the steps to check my visa status on GDRFA website?
Visit the GDRFA link.
From the drop-down menu, select "residence validity."
Input the residence file number that can be found on your passport visa page.
Type your first name (similar to name in passport), your gender and specify your correct date of birth.
Complete the captcha verification and click "submit".
If all the details are correctly entered, your visa status will show green with all other details of your visa.
Other ways to track Dubai visas & Here are some additional ways to track Dubai visas.
On the website of the General Directorate of Residency and Foreigners Affairs-Dubai, you can also check the status of Dubai visa applications and their validity.
Through the Amer website, you may find out about visa status, issuance, expiration, and validity.
Send a message or start a conversation with Amer's office.
Send a message or start a conversation with Amer's office.
Do's & Don'ts in Dubai

Do ask permission before clicking any pictures

Do use google maps to find a specific location as some taxi drivers may not be fully aware of the location.

Don't photograph women without permission

Don't display any form of affection(kissing, cuddling) in public

Don't swear or curse in public as these, along with creating arguments and fighting in public can get you arrested.

Don't bring drugs to the country

Don't consume alcohol in Public

Don't Eat Or Drink On Public Transport

You can avoid visiting Dubai in the holy month of Ramadan as eating, drinking or smoking in public/hotel lobbies is not allowed after sunrise until sunset. Restaurants will also be closed during the daytime and you will have to eat in your hotel room.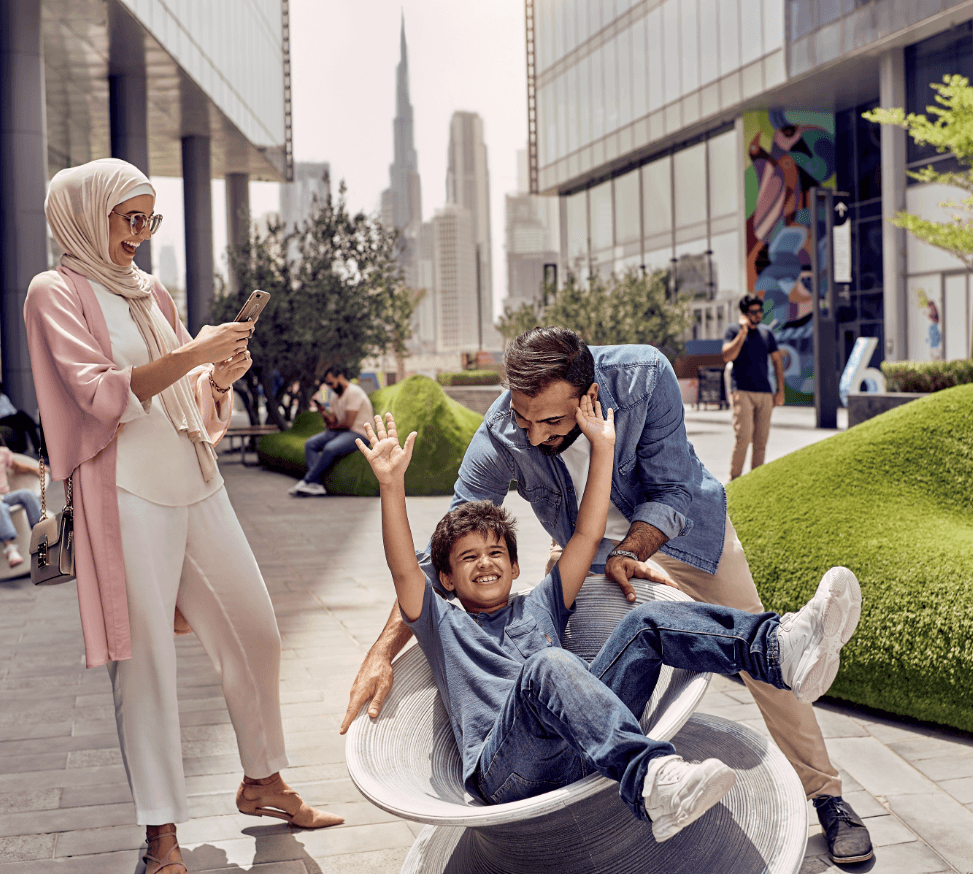 Covid
Requirements & updates
New rules announced on October 3, 2022, where the Dubai government introduced 60 days visit visa. These changes to the visa system will benefit the Sri Lankan holiday maker and Sri Lankans traveling to Dubai as they will you more time in Dubai. You can now apply for the 30 & 60 days visas and choose either a single or multiple-entry option. The requirements to apply for the visa are to submit a clear color passport copy, a Clear color photo, and a return flight ticket to the Arabiers team in Colombo or Dubai.
Source : ICP UAE
PCR Tests are no longer mandatory for passengers landing in Abu Dhabi International Airport. Passengers who want to activate their green pass on the Al Hosn App can use the PCR Test facility at the Airport's Terminal 1 and Terminal 3. In Abu Dhabi, the green pass is necessary to access public areas, tourist sites, retail outlets, and other facilities.
Source : Gulf News
---
Fully-vaccinated Individuals flying from Sri Lanka to Dubai no need to perform PCR tests anymore. This was announced by UAE's National Emergency, Crisis, and Disasters Management Authority and is effective from February 26 onwards. Unvaccinated travelers need to either show a negative PCR test certificate taken not earlier than 48 hours before departure or a recovery certificate with a QR code that is not older than 1 month from travel date.
Source : The National
---
Masks are no longer necessary in public open places as of Saturday, February 26th, according to Dubai's Supreme Committee of Crisis and Disaster Management. However, masks must be worn in enclosed public spaces like malls, mosques,etc.
Source: Gulf News
Extend your stay
Dubai's visa extension policies are more relaxed and now allows travellers to extend their visas without exiting the country. If you are visiting family and want to stay a bit longer, this method can easily help you extend your stay.
Going for a holiday to Dubai
The most ideal visa type when planning for a holiday to Dubai is the Single entry 30 day visa. If flying to Dubai with Emirates, you don't need to take insurance. Read to know a few tips to better your Dubai holiday.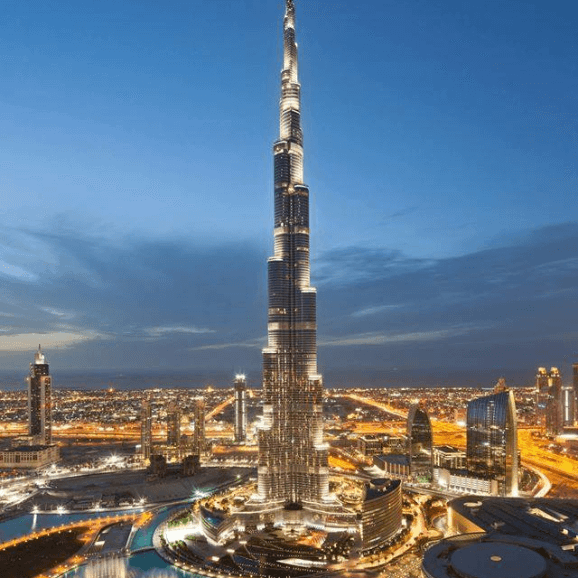 Browse flights six months ahead
most international airlines offer the cheapest ticket rates six months before the departure date. You don't have to buy your tickets that early, but it's a good option to compare prices. Buy your tickets at least a month before your planned date of travel.

Make hotel bookings in advance
Due to Dubai's popularity as a travel destination, hotels tend to get booked quickly, especially during the peak season between October and April. To save yourself from any last minute rush, reserve your room two to three months in advance.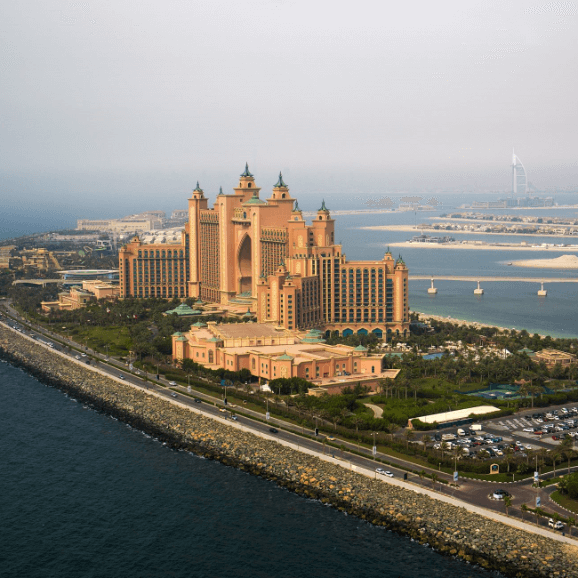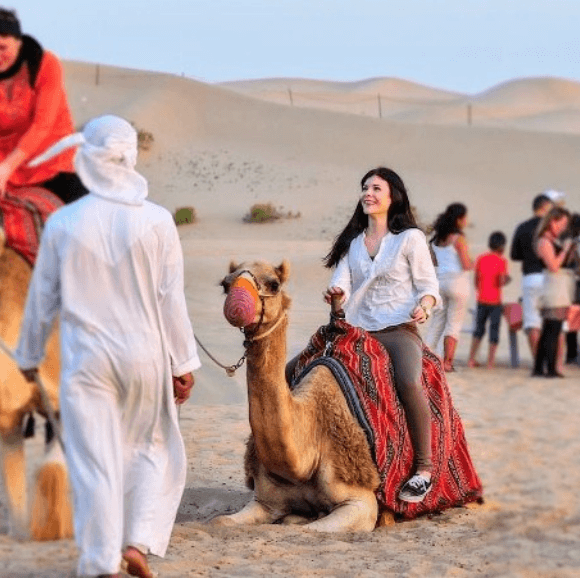 Best time to visit Dubai
Dubai's winter months between November and April is the best time to visit as the weather is pleasant for outdoor activities too. Tourists are more during January and February because of the Dubai Shopping Festival.

Best time to visit Burj Khalifa
Sunset views from Burj Khalifa are spectacular so always book a few days in advance, especially during weekends.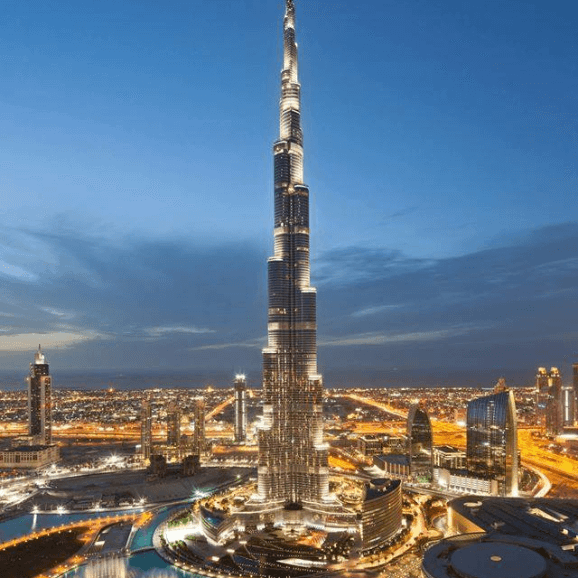 Dubai/Abu Dhabi Embassy in Sri Lanka
Dubai is often mistaken as a country by itself due to its ambitious nature and futuristic outlook. Renowned as one of the top spots for work, leisure and overall living, Dubai is a home to many superlatives. United Arab Emirates is made up with the Emirate of Dubai and 6 other Emirates Abu Dhabi, Ajman, Fujairah, Ras Al Khaimah, Sharjah and Umm Al Quwain. Any complaints or authentication regarding any of the 7 Emirates is handled by the Embassy of the United Arab Emirates located in Colombo 7.

Visit Embassy of the United Arab Emirates

Call

Bus route
The bus routes 138/1, 138/2, 138/3, 122, 125 for the most part run through the A4 highway

Driving
It is near by the Colombo University and opposite to laksala store

The service provided by the embassy
Affidavit of support, medical certificate attestation, marriage certificate / birth certificate attestation, singleness certificate attestation, educational certificate attestation

The service not provided by the embassy
Processing Dubai visa for Sri Lankan passport holders& assisting in extending Sri Lankan's stays in Dubai
Is a visa required for travel to Dubai from Sri Lanka?
Yes, Sri Lankans must apply for a visa to enter Dubai as you are a prepaid national. Sri Lankans visiting the UAE for recreational purposes, such as vacationing, sightseeing, or even brief family visits, should apply for a Dubai tourist visa.
How can I apply for a Dubai visa through the internet?
With Arabiers, it's a simple process, and we make it even easier by using WhatsApp.
Make a payment via the internet
Using our portal, you can submit papers online.
You will obtain your Dubai Visa after it has been issued.
What are the days when the Dubai Embassy/Immigration Department is closed in the UAE?
On Fridays, Saturdays, and UAE National Holidays, Dubai visas will not be processed. Applicants should apply for a Dubai visa online as soon as possible.
What is the quickest way to obtain a tourist visa in Dubai?
Contact our visa experts at Arabiers to apply for a Dubai visa with the bare minimum of paperwork and the lowest visa charge possible. There is no need to come to our office, produce physical documents, or interact with the Embassy. We take care of everything for you.
Is the cost of a Dubai visa refundable?
Even if the visa is denied, the cost of the Dubai Visa application is non-refundable.
Is it mandatory that I purchase travel insurance?
Applicants are strongly encouraged to acquire Travel insurance to protect themselves in the event of unforeseen circumstances such as medical problems, aircraft cancellations, baggage delay or loss, and so on.
How can I avoid being denied a Dubai visa?
When applying for a Dubai visa online, make sure your passport is valid for at least six months.
Make sure that all of the fields are filled out accurately. Confirm there aren't any spelling mistakes.
The size of your Dubai visa photo must meet Dubai Immigration's requirements
All of the documents you supply should be legitimate.
All of the documents you supply should be legitimate.
How will the Dubai Visa be delivered to me?
The Dubai visa will be sent to you by email or WhatsApp. You must print a copy and keep it with your passport at all times. It's a visa that's been issued electronically.
How long does it take to get a Dubai visa?
Normal Visa processing time: 3-4 working days from the date of submission (except on Friday, Saturday and any UAE holiday).
Express Visa processing period ranges from 4 to 18 hours from the time of submission (except on Friday, Saturday and any UAE holiday).
Visit other Emirates of UAE
Abu Dhabi and Sharjah Ras Al Khaima
Effective from 3 January 2022 - 12:01 AM UAE time, Abu Dhabi tourist visas are not being issued for Sri Lankans due to COVID & Omicron variant . Only countries regarded in the green list countries can apply for an Abu Dhabi visa.
Sri Lankans are now free to travel to Sharjah and Ras Al Khaimah.